After Andy departed CNN, he continued to work as a freelance journalist and publicist even as he produced a satellite TV program. Eventually, he returned to graduate school to pursue a Master of Fine Arts in Creative Nonfiction at Goucher College near Baltimore, MD. Following is an excerpt from his thesis, In the Ginning Season.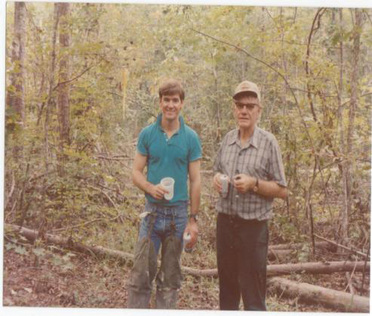 A Weekend in 1986
Down the Road, On the Home Place

Dad has succeeded in answering a question, though none of us has gone out of our way to pose it. We've discovered how far he can drive a green Jeep Cherokee weighed down with the four of us into this rain-drenched, washed out dirt road before the poor SUV simply gives up and sinks, its all-weather treads dug some six inches into the dang mud. I think he has done this on purpose, I just know it. Mom is used to this kind of antic from him; I have forgotten his penchant for this peculiar sort of derring-do. My sister just laughs.

It's been some time since we've had this kind of family outing, where the perils associated with an emergency room visit are never more than one misjudged move away from coming to pass. Still, we remember the drill.

Mom, Sis, and I take our time getting out of the truck: this is no easy task. We each wear boots – Mom and my sister's are of the same black combat variety, just about the smallest size available from any Army surplus store. Mine are metal-reinforced and water-treated. Good thing, too.

In seconds we will stand shin-high in some nasty stuff: A small moat of brown run-off, at least three feet wide, separates the Jeep's right side where I sit from the closest surface approximating solid ground, an oozing coffee-colored clump of earthen play-dough. Displayed clearly in the center of the muddy mess – tire tracks left earlier by our Jeep on the way in. Oops: We missed. Dad is already stomping well off away from the front end of the Jeep, the better to assess the situation. Oh, yes – we're having a large time now. His pipe protrudes from the left corner of his mouth, and he's tipped his black baseball cap back a bit onto the crown of his head so that the bill points upward at a sixty-or-so-degree angle. Out of his pants pocket comes a red foil pouch from which he takes a pinch of tobacco to press into the bowl of his pipe.

Mom, standing next to my amused sister near the water's edge, looks at me with a stupefied grin-slash-grimace, shakes her head slowly and mouths the words "There's not another one just like him." She knows he sees her; he doesn't give a damn and likely knows she knows that, too: This is fun.

With deliberate ease, he continues his ritual, right hand disappearing into pants pocket again, and soon, he's clicked his lighter open. He looks over toward the Jeep, tilts his head to the side as if to arrive at an already-reached solution. Snap-click goes the lighter; puff, puff, puff goes the pipe. My mother has taken this moment to walk over to where Dad stands in mid-assessment, her camera firmly in hand: this must be recorded for posterity.

I can predict what's coming now: "Sig," there's that nickname of unknown origin he hollers, in a rising-falling sing-song cadence, "Sig – get – out – the come-along!" The command carries over some twenty feet of pine seedlings splattered with copious amounts of chocolate muck. I toss back "Will do" and emit a sigh, slosh around to the Jeep's front bumper, hoist my foot, take a moment to re-tie my boot string and see that my sister has hustled over and stands right next to me. We are a sight: me sporting a red-and-black checked flannel shirt, some crappy white-on-black, two-tone cap perched on my head; she, in some gawd-awful DayGlo orange vest over a sky-blue windbreaker. Next thing I know, she's positioned herself in some backwoods Bunny Dip, low and coy at the knees, all sassy in faded denim, gesturing with both arms outstretched toward me and the stuck Jeep like she's the lovely Carol Merrill and I'm just a wayward contestant who doesn't know the difference between a muddy Jeep and door number three. Snap goes the shutter. Mom, typically stylized, a no-nonsense version of Katharine Hepburn-thrift-store chic, chortles beneath a burnt sienna fedora; Dad plays dumb. History has been recorded here, standing soggy socks and all shin-deep in a putrid puddle meant only for ringworm and mosquitoes.

***

Long before the county erected the citified sign, in the years when the road made for little more than a dusty interruption in the blacktop connecting Mississippi to Alabama, county officials had sought to pave it from the state line to the start of the Culpepper farm. But that much asphalt required a considerable right-of-way on either side of the existing surface to get the job accomplished. My grandfather said no. He didn't care about progress. Not a bit. The house did not have electricity until my grandfather was nearly forty years old. So, putting up with a little clay dust flying up from the dirt must not have required much of an accommodation – certainly not if it had meant county crews – likely including a chain gang, or several – could come on his land, pull up his fence posts, disrupt and disturb his way of life. Oh, no.

***

I glance over my shoulder now, toward the red-brick-and-wood-frame house with its wide front porch, tall chimneys – still in fine shape, still painted a crisp, linen white, still sturdy, proud, straight of line. My grandfather would continue to feel proud of his home, my father would be delighted that it looks so good, and, oh, for just a moment, the sight is too much. I turn to face the darkening forest, take a few steps into the thick of it and find myself lost in thought.

How hard it is in surroundings such as these not to feel somehow as if I am in church, even if I am not what anyone would think to call a religious sort. But just as with the other men named T.K. before me, I am washed in the blood, so I guess that's for keeps, no matter if my life's desires need reconciling from time to time and all-too-often run contrary to rewards written in the Good Book.

But reconciliation is not easy. And memories are not always wrapped in the bunting of beauty and harmony.

***

A series of notes, a melody, can transport us in a split second to some other moment in time, to recall, if not always with the greatest accuracy, at least with sufficient clarity to summon the essence of a memory. I stare off into the woods, see something that may or may not there at all, perhaps only a suggestion. I imagine some amorphous spirit nestled in amongst the trees. I superimpose a picture taken years before of Dad. He's wearing those familiar fatigue green work pants, boots, and a plaid short-sleeved shirt underneath that all-too-bright orange vest.

The print is frozen on paper somewhere in the stacks I keep, but in my mind he moves steadily through the trees, splays at small limbs this way and that with the machete, lifts his knees up and down and up again – hup, toop, hup, toop. The motion is not quite waist high, but high enough, up and down, back to earth with crackling efficiency, the sound of his boots against underbrush carried across the rows of trees to where I sneak, stand for a moment in camera range. I am supposed to stay close, to his newly-cleared out path, and I do so – did so – studying him more than I do – did – the ground at my feet.

A figure skater traces a spiral with easy grace. A hurdler takes no notice of barriers below a thigh outstretched. A free-stylist glides across the water's surface, skims more than swims, and breathes in a mixture of vaporized atmosphere, almost amphibian. So it is in the woods with Dad, forever etched in my gray matter, not so much hiking as inventing his own language of locomotion.




---