Andy Culpepper, multi-media journalist

Andy Culpepper has covered numerous beats: general assignment and medical reporting; public affairs and weather; PM Magazine and morning information/talk. Though his career stops have taken him to stints in six markets at eight network affiliates including ABC, CBS, NBC and PBS, Andy is best known in the industry for his tenure as an entertainment journalist based at the Los Angeles bureau of CNN.

Ask Andy what passes for seasons in Southern California, and he'll repeat a story he was told early on: Awards shows are the only way Southern Californians can tell what time of year it is. But the fact of the matter is that Hollywood, more an industry than a location, is home to the nation's number one export: entertainment.

Andy has been a fixture on the scene covering film, music, television and related aspects of that industry -- including breaking news involving its business dealings as well as its many personalities.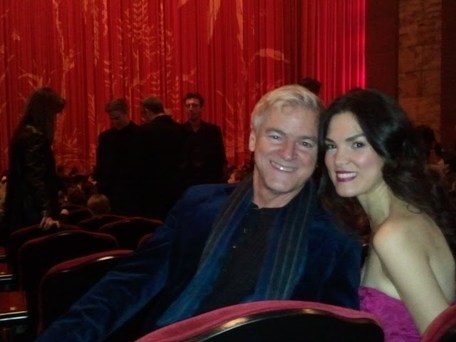 Andy with Sana Etoile attending
the premiere of
Underworld: Awakening
at the
Mann Chinese Theater on
Hollywood Boulevard
---
writer, reporter, producer/anchor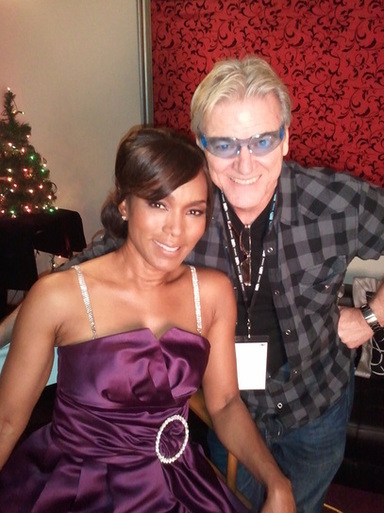 Andy Culpepper is a graduate of the University of West Florida, Auburn University and Goucher College. He holds terminal master's degrees in three disciplines – Master of Arts in Teaching English, Master of Speech Communication in speech pathology and audiology, and Master of Fine Arts in creative nonfiction.
After serving as senior correspondent for CNN's syndicated entertainment unit for well more than a decade, Culpepper -- seen here with actress Angela Bassett backstage at an event in December, 2010 -- created, produced and reported the satellite entertainment program The Hollywood Beat
. He has since worked extensively in feature film publicity as a writer and behind-the-scenes video producer of promotional materials. His work has taken him to sets and sound stages in the Los Angeles area as well as on location throughout the United States and abroad.

Biographical Miscellany

A television anchor, program host and reporter at TV stations in Florida, Alabama, North Carolina, Nevada and Kentucky, Andy reported for more than 14 years from Los Angeles as senior correspondent for CNN's syndicated entertainment unit. From the Hollywood bureau, he filed stories for TV, CNN Radio, CNN.com and People.com
Andy's reporting assignments took him to the Oscars, the Emmys, the Golden Globes, the Grammys and other events where he covered awards, movies, moviemakers, music, writers, directors, and television. He traveled throughout the country covering various events — the 25th observation of Elvis' death at Graceland, the Tony Awards on Broadway, a rain-soaked 25th anniversary of Woodstock, a premiere held on the deck of an aircraft carrier in Pearl Harbor on the release of the feature film of the same name and the premiere of the first Harry Potter in London, to name a few.
He is a native of Birmingham, AL, where he began his work in broadcasting at PBS affiliate WBIQ-TV and then-CBS affiliate WBMG. A decade later, he returned to Birmingham where he anchored the Morning Show at then-ABC affiliate WBRC – TV.
---