The Hollywood Beat: a weekly half-hour satellite TV magazine program produced, edited and reported by Andy Culpepper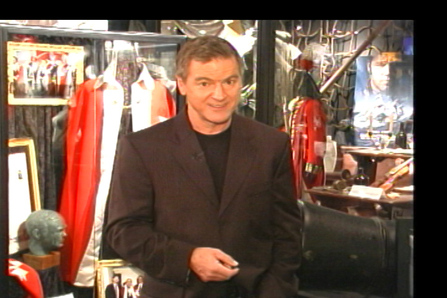 In 2004, Andy came up with the concept for a TV program to be called The Hollywood Beat. Once a week, from 2005 through 2007, THB looked at new movies in release, DVDs, music, authors and other aspects of the larger "Hollywood" community. Andy still owns the companion website, TheHollywoodBeat.com. Pictured left: Andy at a taping of THB from the Hollywood Museum on Hollywood Boulevard and Highland Avenue, a terrific place to visit next time you're in Tinseltown.

---
The Hollywood Beat...always changing, never dull: America's home-grown art-form spawned an industry that fascinates people the world over -- and keeps reporters busy coming up with stories to tell in video and in print/online. Play the montage below, for a sample from THB....
No Face in the Crowd, Andy Griffith defines a legend.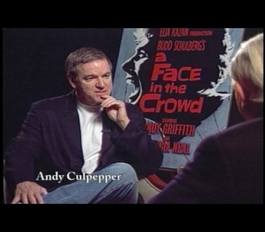 When Andy Griffith's classic film, A Face in the Crowd, was released on DVD a few years back, the longtime TV and film star joined Warner Home Video in commemorating the anniversary by sitting for a day of interviews with members of the media, the reporter Andy met and talked with the legendary actor, Andy, about the landmark movie and about his immense fame generated by the sitcom set in Mayberry, North Carolina. Left, Andy interviews Andy: A thrill for the Culpepper Andy more than he can express. Mr. Griffith came to the theater in Birmingham, AL, many years earlier where a younger Andy Culpepper was appearing in a production of Steven Sondheim's Follies. 30 years later, the two Andys met again. Watch the video story below.
---
CNN Radio's On Screen required a different set of story-telling muscles. Make it interesting, make it accurate and make it very, very short -- 58 seconds and change.
Following are two ofthe many stories Andy filed for CNN Radio.

Andy & CNN entertainment television - covering Hollywood for the nation and the world....
So many events, so many stories, so many personalities, so many formats. Good entertainment reporting is not gossip: It's substantive news from a massive, multi-billion dollar industry.
Adrian Brody, Paul Newman and a news montage. I kept calling him Mr. Newman. He kept saying -- call me Paul. Right. What a great man he was.

One-on-one interviews for film releases: Here are your five minutes. Stay focused, stay on point, come away with something original, and get the story out across every platform in the fastest, most accurate, and -- yes -- entertaining and compelling way.
Here, below left, a montage of quick snippets from some of Andy's interviews in the early nineties. So many fill the shelves in the CNN vault, it would take several wheel barrows to cart them around.


Television from the Heartland - riding a WAVE of ratings success as producer and host:
Today in WAVE Country, number 1 in Louisville four years running on the NBC affiliate.

Ratings winner PM Magazine/Nevada offered Andy a unique life on the road reporting in the Western Wonderland that is the Silver State.
This montage of video stories Andy produced, wrote and edited during his tenure as co-host of PM Magazine/Nevada. Andy edited the video in the days when most editing was called "cuts only."
"Drop and drag" was how you felt after you'd been in an edit session nine hours without interruption.